Squee!! I have so MUCH to share with you today. I hope you have a few minutes to look through everything because we are bringing you a lot of awesomeness today!
BLOG TRAIN
We have 13 designers offering a commercial use digital scrapbooking freebie on their blogs today!
Have fun visiting each designer's blog, downloading a free sample of their CU designs and checking out their sales and specials in the store.
Here is the master list of designers in case you get stuck somewhere along the way. Please be patient with designers posting from different time zones --
ABCreations
http://AnmarieBowdenCreations.blogspot.com
bymurielle
https://bymuriellescrapdigital.blogspot.com
Courtney's Digiscrappin'
http://www.courtneysdigiscrappin.blogspot.com/
CU by Day
http://cubyday.blogspot.ca/
Eirene Designs
http://eirene70.com/blog3/
Kathryn Estry Designs
http://kathrynsdigitaldesigns.blogspot.com/
Kim Cameron
http://kimcameron.blogspot.com/
Kristmess Designs
http://kristmessdesigns.blogspot.ca/
NBK-Design
www.nbk-design.com
Pati Araujo
http://patiaraujo.com/blog/
Queen Bee Scraps
http://queenbeescraps.blogspot.com
SnickerdoodleDesigns
http://snickerdoodledesignsbykaren.com
StarSongStudio
http://starsongstudio.blogspot.com
FEATURED DESIGNER – StarSongStudio
It's time to meet another talented designer at CUDigitals!
What is your real name if different than your design name?
Ann Plantier
Tell us a little bit about yourself and your family.
I live in the United States just outside of Philadelphia with my husband and a very spoiled King Charles Cavalier Spaniel, Vinnie. I have two adult daughters and two grandsons. StarSongStudio has become a family business with my husband, Clemens, taking most of the photographs that I use for backgrounds and extracting elements; and my daughter Dawn (Morning Sun Designs) collaborating on a number of PU and CU kits. When I'm not designing I'm busy wearing my other career hat: professional astrologer, which I've been doing for over 30 years.
How long have you been designing CU products and how did you get started?
My daughter introduced me to digital scrapbooking in 2009 and I started designing CU products in 2010.
Here are some of my favorite products that Ann has created
Do you design PU products as well?
Yes, I design both.
What programs do you use to design your products?
Photoshop CS5 and Adobe Lightroom are my stand-bys.
What is your favorite time of the day to design?
I'm definitely a morning person and I often wake up at 4 or 5 am filled with ideas I want to try out. It's 5 am as I type this at my computer, my dog curled up sound asleep at my feet.
Can you give us a great tip for using one of your products to create digital scrapbooking kits?
I love elegant table settings where china cups, teapots, and plates are filled with a variety of fresh floral bouquets and ribbons. My CU Tea Party kit is perfect for this. Try erasing the back of the cup or pitcher, for example, and fill them to overflowing with flowers.
What are a few of your favorite products that you've made?
Two of my favorites are my photographic backgrounds series, since I'm reminded of all the wonderful places I've visited when I see them; and my pocket watches, which are photographed from my own collection.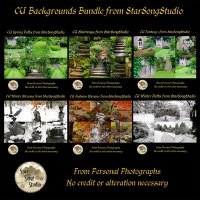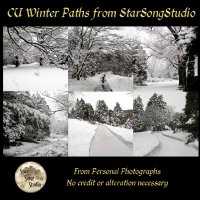 What is your best-selling product?
My tattered books series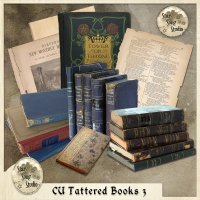 Do you have plans for your next set of CU products?
My favorite used book store just had a wonderful sale and I picked up some wonderful old music books from the late 1800's and early 1900's.
What do you love to do when you are not working?
I love reading and usually have 4 or 5 books, fiction and non-fiction, going at once.
What is your favorite beverage?
Coffee, especially flavored or fancy coffees with lots of frothy foam on top
If you could learn anything what would it be?
This is always changing but at the moment I think it would be fun to learn magic tricks
During Ann's feature – she is offering a FABULOUS SALE
and a wonderful freebie!
GIVEAWAY
You can enter to win $10 worth of Ann's great CU products – just leave a comment on this post before Thursday April 18 at midnight. One winner will be drawn and announced on the April 19 blog post. Good luck!
LAST WEEK'S WINNER
The winner of last's week $10 giveaway for Stargazy Creations is Mary89. Mary has already gotten an email and ready to shop for some fabulous goodies! Congratulations!
NEW RELEASES
Photoshop Actions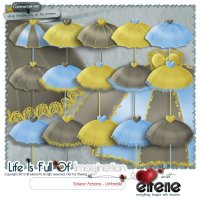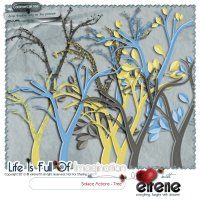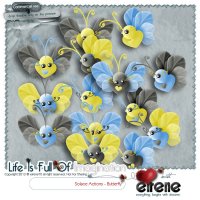 Embellishment Templates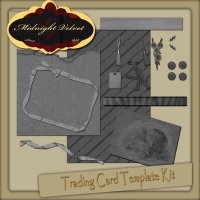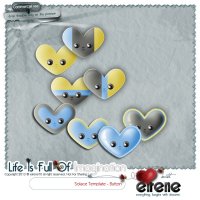 Embellishments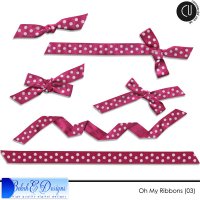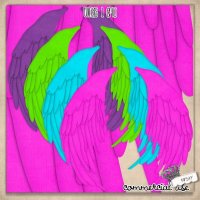 Papers and Paper Templates
Photoshop Styles