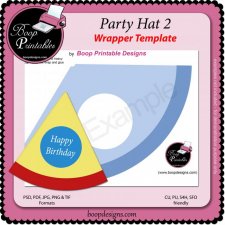 CUDigitals New Products : RSS Feed http://ift.tt/2wdCXpP
Printable Craft Template Cone Shaped Party Hat 2 TEMPLATE by Boop Printable Designs

Tired of buying or downloading free printables only to find out after you have designed and/or printed them out they dont fit your project? Well, you can rest assured with my designs. I painstakingly measure and test each and every craft printable I sell or give away BEFORE I put them on the market.

You get one (1) cone shaped kid's Party Hat Template which includes a bottom border and center circle designed for you to decorate and fit on a childs head or use as a decoration. Use them at your next birthday party, baby shower or any type of celebration where kids are the main attraction. Impress your family and friends with your custom personalized designs . Or, better yet, fill them up with treats and give away as gifts or party favor!
This cute and useful template is all ready for you to decorate using your favorite graphic editing software and create your unique designs.
You may use my Printable Craft Template' to create your own design and use it for your personal use or sell your completed designs for others to print and use. That means you will be able to use this versatile template over and over again. The only thing you need to do is be creative.
*Please note that you are not permitted to share exchange, redistribute or include my original template file(s) with your designs.
For commercial as well as personal use. 300 DPI in PSD, TFF, PDF & JPG formats. Please read my TOU included with the files for complete details.
My Blog * My Newsletter * Facebook